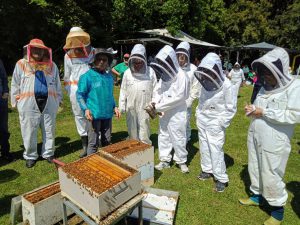 Hello my name is Paul O'Donnell and I take this opportunity to welcome you to our official web site of: The Christchurch Hobbyist Beekeepers Club Incorporated.
The Club now approaching its 57th year of operation, which was founded, by a group of like-minded persons who wanted to share both the trials and tribulations of keeping bees. More specifically for persons who did not rely on an income from keeping bees. The organization was founded, and still is, as an amateur club with most members having one or two hives, maybe more, but we do have members who have fifty or a hundred or more, in other words professionals operating a honey business.
Our club is geared towards the hobbyist beekeeper, but the infusion of both older amateur members and professionals has provided a wonderful learning environment for the Newbees (beginners).
Paul O'Donnell
President.