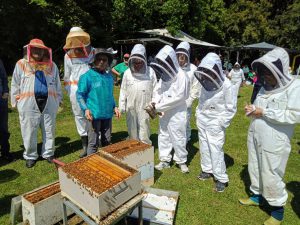 We're celebrating 60 years of the Christchurch Hobbyists Beekeepers Club this year -that's quite something to be proud of as a Club. From humble beginnings we now have a beautiful developing site the bees can feed from and enjoy. I'm delighted to be the President of such a successful and ever growing community of like minded people.
This year is an exciting start back from our past two years that have been interrupted by COVID19. We were challenged over this time to keep our bees alive and healthy, our Club facilities improving and our Field Days active and interesting – it's takes the commitment of a Club to pull together and come through this better than ever.
If you are finding us for the first time I'd like to make you feel welcome and invite you to come along to the next Field Day where you can be amongst beekeepers, learn about bees and go into the hives to see if this is a passion you want to follow.